News & Media
Should you bother voting?
October 24, 2022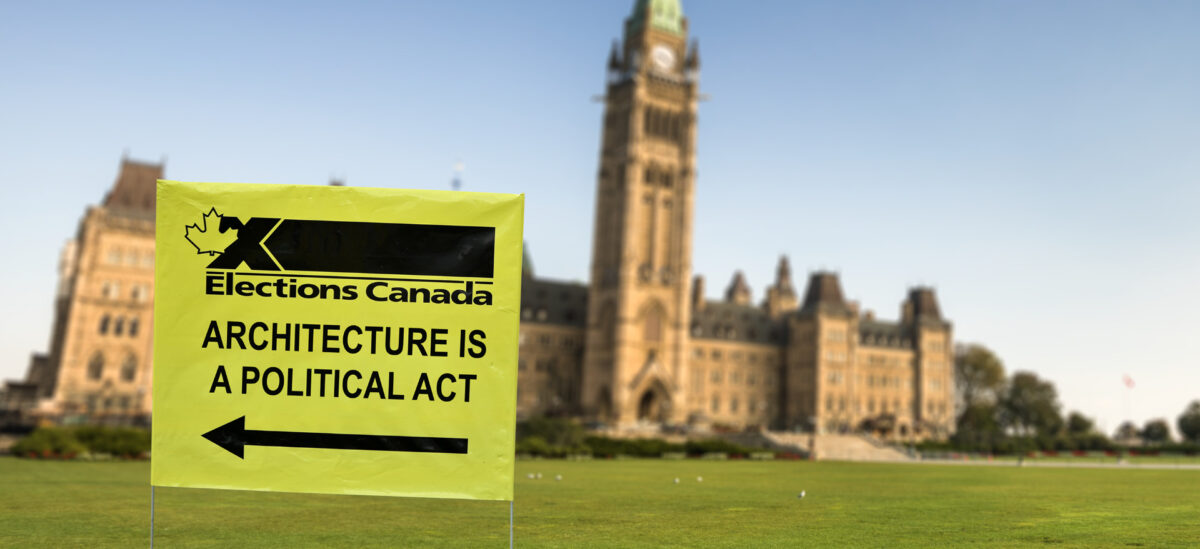 Should you bother voting? This question comes up often; some people are disenfranchised by politics or are unsure of who to vote for so they don't bother voting. We see that play out in elections: in 2018, a paltry 43% of Ottawa's population bothered to vote with similar numbers in last June's provincial election.
But it is essential that people exercise their democratic choice, especially in municipal elections: as Shawn Micallef notes in this excellent TVO interview, municipal politics has the biggest and most direct impact on our daily lives, from transit to garbage collection, parks, roads, and emergency services.
What should you pay attention to? And why should you listen to an architect? Why does an architect care about municipal politics? It's because architecture is inherently a political act. Let's take a range of issues and understand that architectural-political connection.
In each of these, it's important to remember that politicians will often make decisions based on staff input. However, that input may be directed by the council in pursuing an objective that they set. Regardless of how the information lands at the council table, the final decision rests with elected officials who must be held accountable.
Taxes:
Cities have limited abilities to raise revenue, largely as a result of the structure of our government. Cities, as creatures of the provinces, can only really raise funds through property taxes and user fees. These must pay for, to a large extent, everything we need and want out of our city. About half of our revenue comes from property taxes while less than 20% comes from the province and a fractional 2% from the federal government. At the same time, we know that in Ottawa, it costs the city about $500 per year per household to provide services to suburban homes than urban infill which generates over $600 per year more than the cost of servicing. Property taxes fund infrastructure renewal (like roads, bridges, sidewalks, and pipes delivering water and taking away sewage); they fund libraries, fire stations, community centres, and other city services; they fund public transit, park maintenance, and snow plowing.  We can't maintain or lower property taxes if we keep on subsidizing suburban expansion and build ever more roads, subdivisions, and far-flung communities.
Transportation:
Politicians make decisions on where our LRT will run, how it will be designed and built (and by who) and how to set the fares. Political decisions, tied to where suburbs grow (and who builds them), will affect where we spend money on roads. Approving new shopping complexes can mean city investment in wider roads, turning lanes, or dedicated transit services.
Housing:
Understanding the political impact on housing is equally complex and should be looked at through two perspectives: affordable housing and housing affordability. On affordable housing (subsidized or other forms of below-market housing such as shelters or transitional housing), politicians set city budgets that determine how many homes we build for those in need. Related, politicians set budgets for supportive housing and related services in mental health, social services, and other supports that become integral to helping the most marginalized and in need. When it comes to housing affordability, likewise, politicians set policy around planning approval, density, and allowable built form that directly impact how much it costs to build homes. Since 2013 we've known that planning approval, something politicians like to have a say in, affects housing affordability: every month of delay adds $20,000 per home per month to the total economic impact of a project, with a third of that being direct construction cost.
On these three items alone, your voice matters.
Who you choose to send to sit at the council table, or in the mayor's seat, will impact how your city is governed over the next four years. It will also set a path for the future, showing how our city chooses to move to resolve critical issues around accessibility, equity, and inclusion (snow clearing as a gender equity issue); climate change (cities are home to 80% of Canadians; buildings and transportation affect 75% of GHG emissions). Choosing who makes those decisions and their impact on you, your children and your grandchildren are essential if you want to create a city we can all aspire to, one where people feel welcome; where festivals and attractions bring tourists and provide a vibrant social culture for residents; where transit is reliable, affordable and takes you where you want to go; where parks, public washrooms, and sustainable buildings create a positive quality of life for everyone.
Beyond these basic practical issues, architecture remains political in and of itself.
Politicians make decisions about grand (and not so-grand) monuments; from central libraries to major transit systems, decisions made by politicians create our cities and leave lasting legacies. We might not think about too often but structures like the Eifel Tower, the Parthenon or the Colosseum are great works of architecture that are ALSO examples of political decisions.
Contemporary decision-making is no different. Consider how Expo 86 shaped downtown Vancouver, bringing in not only the SkyTrain, BC Place Dome, and redevelopment of the False Creek area, setting the stage for the Vancouver Olympics a generation later. Ottawa, always a political creature, has been similarly shaped: the Greber Commission shaped our city, set up the destruction of LeBreton Flats, and paved the way (literally) for the growth of suburbs and car dependency. The creation of the National Gallery, Museum of History, and others were political decisions made by the federal government playing a direct role in city building.
This continues through not just actual built works, but theoretical and conceptual explorations of the meaning of architecture. The most famous example, is, perhaps, the Venice Biennale, where architectural ideas are displayed, discussed, and explored. For example, in 2016, an exhibit at the Polish pavilion explored the impact of inequitable labour practices in the context of public demand for cheaper buildings delivered faster. The exhibit demonstrated abuse, death, injury and unpaid labour against the context of "fair trade" branding we might find on chocolate bars. The Canadian pavilion that year explored how mining companies in Canada, often supported by politics, directly affect the health and wellbeing of Indigenous people not just in Canada, but around the world. Also in 2016, an exploration by the Waterloo School of Architecture explored forensic architecture, showing how the politics of Nazi Germany played out in the creation of execution chambers and, moreover, that architecture could be used to prove the existence of the Holocaust.
These are political decisions, one I've attempted to shed light on in Ottawa through procurement practices that ignore legally compliant, but morally reprehensible, employment practices. Choosing the stay the course, maintain questionable contract conditions, and reward firms for low-fee bids is a political choice.
We can be the city we want to be. A place where people feel welcome; where small businesses can thrive, and where homes exist for those who want one. We can be a sustainable capital city, showing the world what a G7 capital city can be. But we can't get there if we don't vote. The time is now. Vote.
Toon Dreessen is president of Ottawa-based Architects DCA and past-president of the Ontario Association of Architects. For a sample of our projects, check out our portfolio here. Follow us @ArchitectsDCA on Twitter, Facebook, LinkedIn, and Instagram.