News & Media
Wellington Street — it's time to think beyond the vehicles
February 3, 2023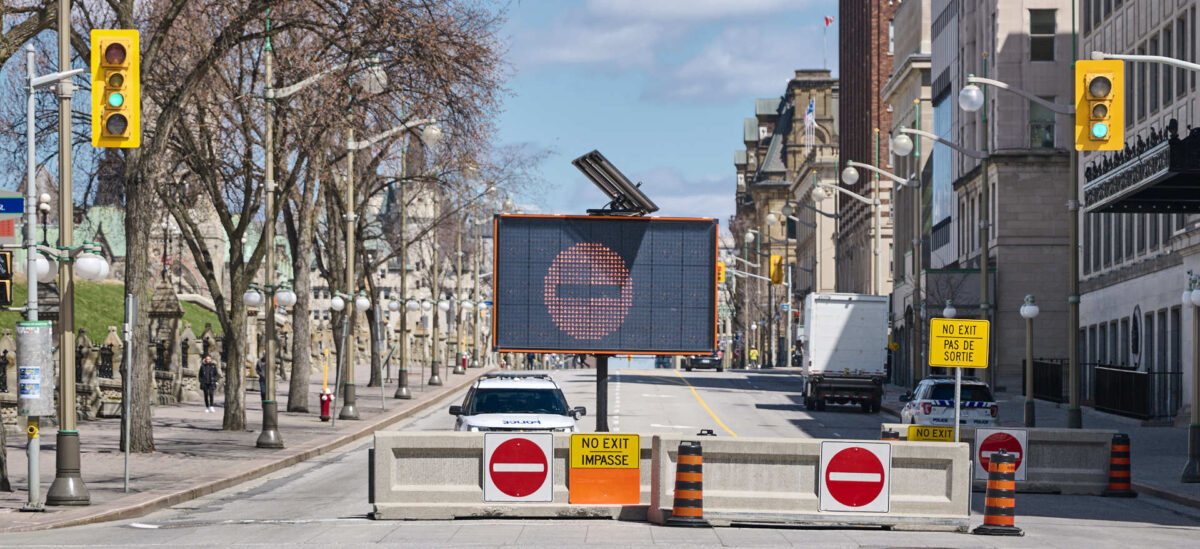 It has been a year since protestors took over Ottawa's downtown core, rendering streets impassible and fundamentally shifting how we think about public space in our core. Restaurants and small businesses, already hampered by the COVID-19 pandemic, are attempting to rebrand the downtown area as SoPa (South of Parliament) and, like residents, gird against possible future protests.
The downtown is no stranger to throngs of people taking over the streets. But unlike the response to a joyous event, like Canada Day or the short-lived visit of La Machine, we need different actions when the intent is less joyous. We need to prepare so our city functions not only as a place for people who live here, but as a place for people to gather, to celebrate, to mourn and, yes, to protest.
We seem to be discussing an apparently urgent need to reopen Wellington Street, currently closed to cars between Bank and Elgin streets, without a broader vision for our city. I believe this street — and more — should remain closed to vehicle traffic.
To begin, public space downtown is precious. There are few public places where one can walk, ride a bike or play in the street without fear of being run over. Riding a bike on Sparks Street is forbidden and our city's penchant for painted lines instead of proper infrastructure doesn't help create safe places to get around.
From a security perspective, it is ludicrous that we allow any vehicle to get as close as they do to important government buildings, such as the Supreme Court, the Parliament Buildings or the Prime Minister's Office, let alone other secure government offices. Similar offices in Washington, London, Paris, Brussels and other capital cities don't permit unrestricted vehicle access, tour buses or trucks to drive past them daily. While we might have no history of truck bombs or armed insurrection on a scale others have experienced, that isn't an excuse to pretend it isn't possible.
That said, we also shouldn't cordon off our city as if it were under some sort of perpetual security threat. This is Canada, after all, and we have fewer worries than, say, Washington. But between last winter's truck protest (laden with cans of gasoline) and a brazen (truck-driven) assault at Rideau Hall in 2020, we know we aren't immune from violent, vehicle-incited protests.
Currently, Wellington Street is barricaded with some uninspired concrete planters, pulled from storage, and stop signs held up with sandbags. We can do a lot better. We need to imagine an accessible, sustainable, public place connecting the east and west ends of downtown with plazas, trees, public washrooms, information kiosks, benches and seating. We need places where residents can wander, play and enjoy the vibrant life of a G7 capital. A place where small businesses can open a coffee shop, bookstore or food cart on a plaza where they know thousands of people will pass by. This is a place to focus public gatherings: to mourn the passing of a head of state, to celebrate a victory, or, yes, to protest our government.
The National Capital Commission has proposed that Wellington be converted to just such a space: treelined and green, it would provide space for a surface tram, linking Gatineau and Ottawa with sustainable transportation that could enhance tourism, communication and economic growth by making the river a connection instead of a barrier.
Ottawa's council needs to develop a passion for great places, to dream beyond opening a road to cars and trucks and clogging our streets with traffic and exhaust fumes. Together with the federal government, the city needs to see that a street closed to cars is open to people; that it can be a vibrant, sustainable, place in the heart of our city. A vision, a goal and a funded plan are essential to making that happen.
This article was also published in The Ottawa Citizen.
Toon Dreessen is president of Ottawa-based Architects DCA and past-president of the Ontario Association of Architects. For a sample of our projects, check out our portfolio here. Follow us @ArchitectsDCA on Twitter, Facebook, LinkedIn, and Instagram.