News & Media
The Harriet Brooks Canadian Nuclear Lab
April 25, 2017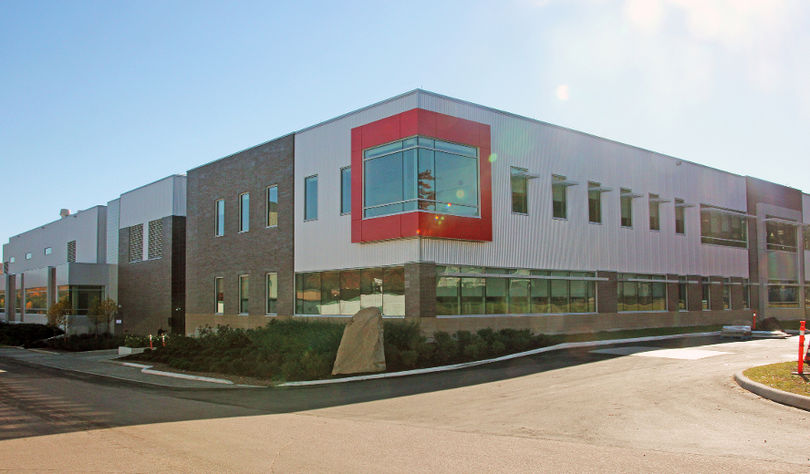 Built in 2016, the Harriet Brooks building is a two-storey, Class C radioisotope laboratory, named after Canada's first female nuclear physicist. Architects DCA was integral in the design to replace the existing R&D infrastructure at the Chalk River Laboratory Complex. The building houses 85 scientists and engineers focused in the field of nuclear energy.
The new lab space was designed to be flexible, providing opportunities for reconfiguration to adapt to changing needs. A double height entry lobby provided circulation between secure zones with emphasis on natural light, active circulation and collaboration. Secure washrooms, change rooms and showers support the laboratory space and were designed for flexibility, accommodating accessibility requirements for staff.
The lab spaces were segregated into zones, surrounded with perimeter corridors where collaboration tables, benches and work zones provide cross-disciplinary collaboration. Natural daylight floods the corridors, shining into the lab spaces to inspire and elevate the human spirit. Research units were grouped together to coordinate uses and services, and the use of colour in flooring materials accentuated functional groups for safety and workplace management.
Adjacent office space provides a cultural change in workplace organization with open offices and meeting rooms. Office circulation is designed to provide a journey, creating pathways to washrooms and shared space, facilitating interaction between diverse users. Colour and texture are used to provide visual cues for orientation and spatial differentiation.
The building was designed to be an integrated facility with shipping, storage and access to flexible rearrangement of research needs for process and HVAC demands. The LEED Silver designed space has aggressive energy recovery requirements for process loads and incorporates complex life safety systems needed for the research lab.
At the ribbon cutting ceremony held in October 2016, the Honourable Jim Carr, Canada's Minister of Natural Resources, was quoted in the Daily Observer stating, "We are at a pivotal time when the world is making a historic transition to a lower-carbon future; when climate change is one of the great challenges of our generation; and when investing in clean technology and innovation is today's new imperative."