News & Media
Putting Ottawa's public properties to better use
March 31, 2021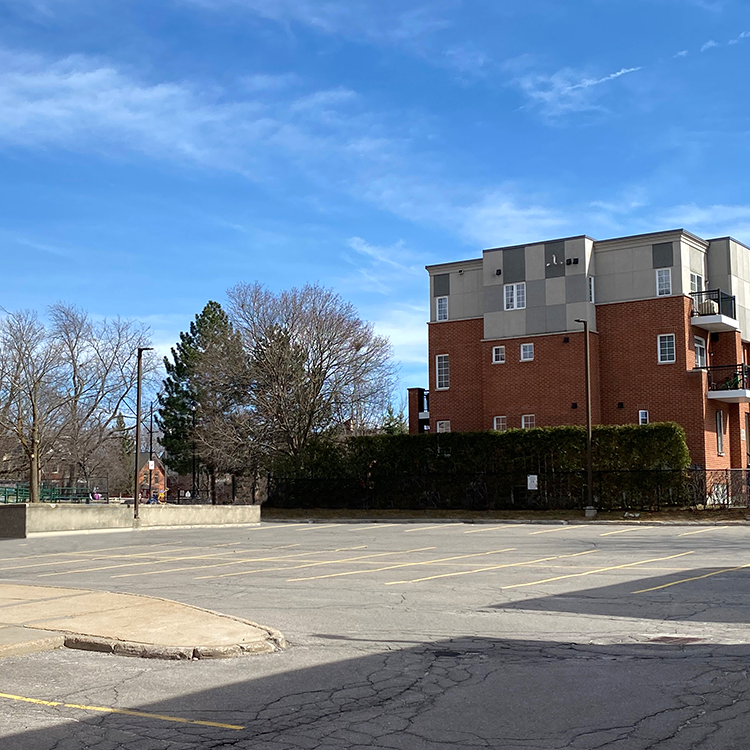 With a little creativity, government-owned land can help increase affordable housing and enhance our community.
In January 2020, the City of Ottawa declared a housing emergency. Tackling this complex problem requires a range of initiatives. But one of the most accessible strategies involves rethinking how publicly owned land can be used to maximize its value to the wider community.
In early March, the City of Ottawa purchased 1010 Somerset St. – a large swath of land running parallel to the Trillium O-Train line – from the federal government. The property will be incorporated into Ottawa Community Housing's planned Gladstone Village development.
This is excellent and welcome news.
The $11 million purchase price exposes a challenge. For the 2.55-hectare site, we are paying about $430/square metre ($40/square foot) to transfer a public asset from one government to another. At the end of the day, this is all coming from the public purse. One government is buying it from another, using tax dollars.
What if we thought differently about our publicly-owned assets?
Unused air space
Consider 407 Parkdale Ave., just south of Wellington Street West. Aerial photos suggest it's been a Canada Post depot since the 1950s.
With 45 meters (150 feet) of frontage on Parkdale, the one-story building provides a critical piece of infrastructure for our postal service. But the air space above the building is unused.
Meanwhile, the community suffers from a lack of housing affordability because the land is expensive. Further west, a 0.04-hectare (50×100 foot) lot sold for more than $1.5 million ($300/square foot). At that price, it is impossible to buy land, develop it and create housing affordability.
If the Crown land was sold to the city, Canada Post would still need to have land for a depot and build a similar building elsewhere; given the logistics of mail delivery, it would need to be nearby. Selling the land at market rates would take years of negotiation and cost the city millions of dollars, adding to the already high cost of construction.
What if the city partnered with Canada Post and built four to six floors of residential housing above the depot? A long-term lease on the land for a dollar a year would keep the cost of the overall project down and would keep the assets in public hands.
An apartment building with no parking is ideal for the neighbourhood and, with a little bit of creativity, the depot operations might allow for some more active street frontage like a not-for-profit space.
Sure, when the construction is happening, Canada Post needs to find a temporary home but, once back in, they get a new, updated facility. The construction time can be shortened by using mass-timber and pre-fabrication systems to minimize construction time and impact on the neighbourhood, resulting in better quality and long-term cost savings. No basement for parking can make the construction process less disruptive and contain costs.
With new residential construction costs well into the range of $300/square foot, saving on the cost of land is significant. Even more so, this doesn't require any complex planning approval, sales agreements or the expensive rebuild of critical infrastructure.
Housing could be provided at median community income levels, or rent geared to income, providing much-needed, sustainable rental housing.
City enhancements
Now extend this idea across Ottawa.
Just down the street from the Canada Post depot is the Hintonburg Community Centre at 1064 Wellington St. W. Nearly half the land on the site is surface parking that could be converted to housing, needing no land transfer.
Even if there was an argument for maintaining space for cars, some of the community center's surface parking could be maintained while still providing five floors of sustainable housing fronting on the adjacent Hintonburg Park. More residents in the area would give a boost to the local economy and provide the walkable and bikeable density our small businesses need.
At a smaller scale, we have many more pieces of publicly owned land that can enhance our city. Boulevards and wide public right-of-ways, such as Scott and Albert streets, can be enhanced with street trees, creating a lush canopy that mitigates noise and improves our quality of life.
Traffic islands in the centre of roads can be converted from painted lines or mountable medians to raised planters filled with native species that promote pollinators.
Small parklets can be created by removing slip lanes to improve safety and create a place for public art or a place to sit and relax.
We have the potential to create housing affordability and enhance the beauty of our city.
Ottawa is filled with publicly owned land and infrastructure that we can put to use, creatively reducing the cost of housing and providing the sort of beauty our city needs. There is potential everywhere.
Toon Dreessen is president of Ottawa-based Architects DCA and past-president of the Ontario Association of Architects. For a sample of our projects, check out our portfolio here. Follow us @ArchitectsDCA on Twitter, Facebook, LinkedIn and Instagram.