News & Media
Project spotlight: 360 Lofts
April 14, 2016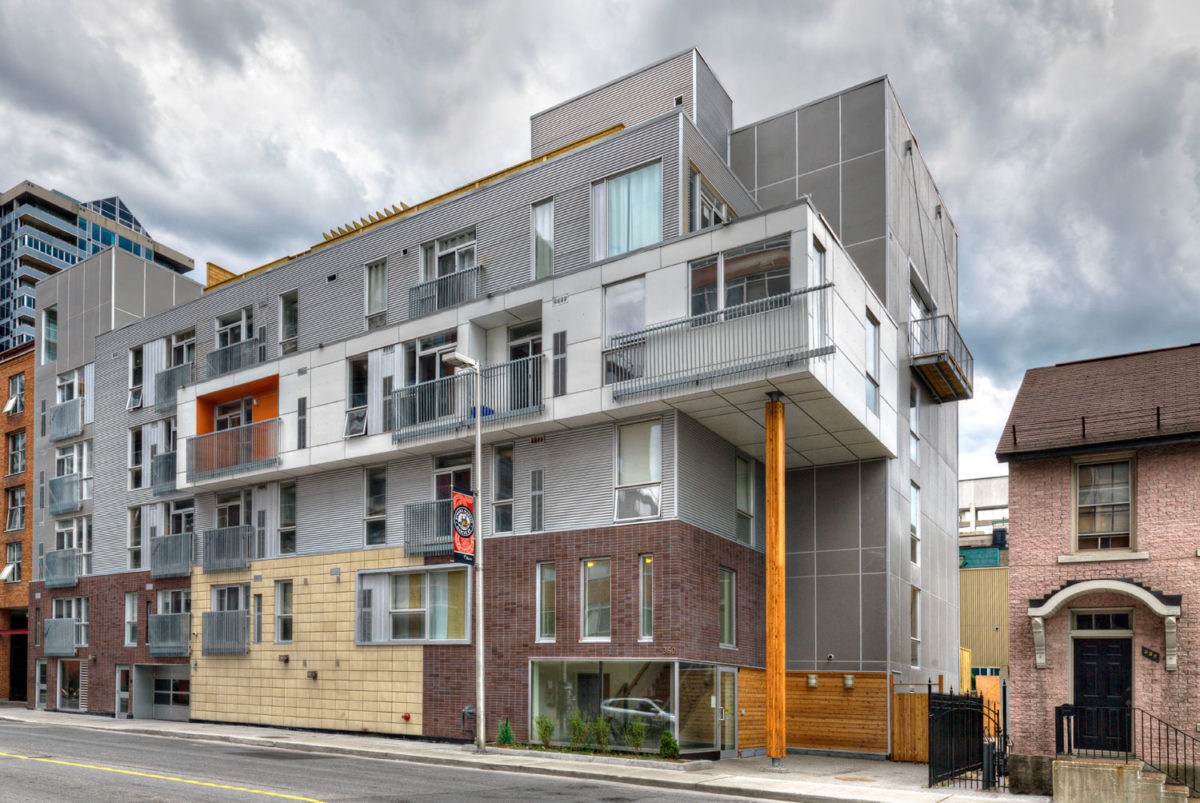 The 360 Lofts Condominium brings sophisticated and contemporary architecture to the urban-Ottawa Byward Market neighbourhood. Located at 360 Cumberland Avenue, between York and George Streets, the 38 unit building is an in-fill construction with a style and unique design that aims to get Ottawa locals excited about architecture. The location of the building provides convenience for residents: urban pubs, hip restaurants, boutique shops, and public transportation are all within walking distance, as is the Ottawa University campus and downtown Ottawa.
The modular design of the building contributes to its intrinsically contemporary appeal. The third storey juts beyond the walls of its bordering units to add dynamic, varying levels to the exterior design, creating a sheltered entry court. A selection of durable, industrial materials are used on the building's façade, including red cedar at the entry where the texture and warmth of the wood is accessible to occupants; brick and stone set in a stacked bond to provide durability and scale; cement-fibre panels for monolithic blocks of colour, and steel siding for colour and texture. Galvanized steel balconies use wide steel plates with narrow gaps to form a sort-of vertical blind to the French balconies overlooking Cumberland Street, creating privacy and only allowing fleeting glimpses by passersby. Rod-supported galvanized steel balconies at the rear provide outdoor space for the small units. An area of the front façade was dedicated to a public art installation provided by the developer.
With a sustainable and unique design, this contemporary building provides affordable and modest living in an area of town where the norm is for high end, luxury suites. Units were designed to provide flexibility in living styles with compact bedrooms and bathrooms and an open living/dining/kitchen area; the kitchens, furnished with granite counters and compact appliances, appeal to those who want to cook with seasonal ingredients from the market. Some fourth floor units include an interior stair with access to a private roof-top terrace. A large central roof terrace for the building includes a pergola, terraces and planters for all to enjoy the views.
While a wood building is typically covered in material to hide all the lumber for fire and safety reasons, on this building we were able to leave a glue-laminated timber beam exposed at the entry forecourt as an artistic, yet essential supporting feature of the building. The forecourt welcomes inhabitants and their guests into a contemporary two storey lobby where all building amenities are accessible.
The building provides a unique, mid-rise, modern addition to the surrounding urban environment; it creates a new paradigm for urban infill development, standing out from the crowd of conventional high-rise buildings. The 360 Lofts Condominium is far from ordinary and invokes a modern appeal, that responds to its surrounding context, leaving a legacy for the community and setting a standard for what good, contemporary, infill development can be.