News & Media
Ontario Association of Architects Council: Toon signing off
December 8, 2017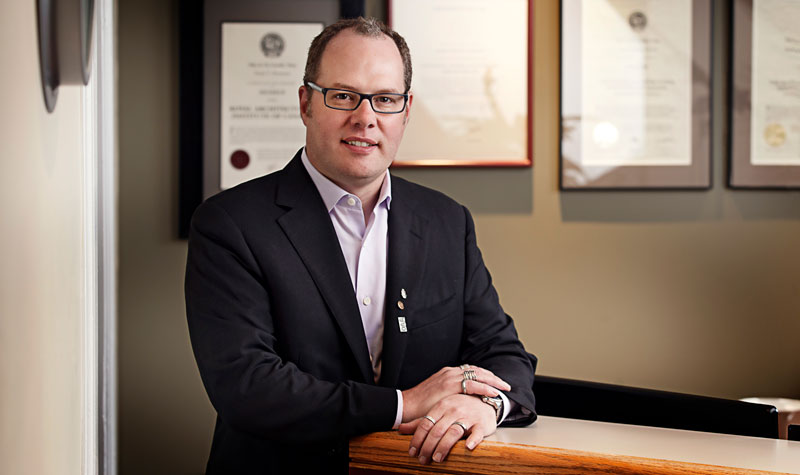 The old adage says that when one door closes, another one opens. This is very true today as it marks the last Ontario Association of Architects (OAA) Council meeting I will be attending. For six years, I've had the honour of serving the architecture profession's regulatory council. Elected by the members of Eastern Ontario, it has been a distinct pleasure to serve the profession as a whole, bringing a voice to the OAA from Ottawa, the Ottawa Regional Society, the Ottawa Valley, and the St. Lawrence Society.
The Ontario Association of Architects is a self-regulating organization governed by the Architects Act, a statute of the Government of Ontario. The Mission of the OAA is to serve the public through the regulation, support and promotion of architecture in Ontario.
Over the past six years, I've served on numerous committees. This has included serving local needs in Ottawa, and responding to local issues, as well as OAA committees and task groups, and national committees and initiatives. For two years I served as President; you can read the blog here for more information.
Serving on Council is an opportunity to give something of yourself to the profession. It's not just an expression to say that you give back to your community; you have to demonstrate that in actions. Serving on Council means you give something of yourself to try and make your community better. My community is my profession. I live and breathe what it means to be an architect, and continually strive to not only make the world a better place, but a better place for future architects. I firmly believe that through architecture, we can realize a better environment. Few other professions affect how people live, work and play, while impacting the global environment, the economy at the micro and macro scales, while also providing a regulatory framework that holds those who practice their profession to high ethical standards. I am part of a privileged profession where I can imagine working, practicing, and enjoying doing so, for the rest of my life. I will always be an architect, I can't imagine ever doing anything else, or seeing the world other than through the eyes of an architect.
This fall, when the call for elections went out, no one from Eastern Ontario stepped forward to run for the seat I had made clear I was vacating. It is critical that there be renewal at the council table. There are so many issues to address, on a constant basis, that need fresh eyes, and fresh energy, to lead change. If we want to make this profession better, and truly represent the needs of Ontarians, we need to have fresh approaches to improving the profession. It is time for a different voice to be heard. In that, I hope that those newly elected to Council, and those returning, heed the call for fresh ideas, and embrace change.
In case anyone was wondering, yes, I'm still going to be involved, and no, I'm not out of ideas. My time at the OAA has shown me that there is so much that needs to be done. More than ever, it's all hands on deck to continue tackling key issues around procurement, architecture as part of culture, professional fees and the value of the profession with the public. I'll be involved in several OAA committees, as well as some national committees. I've offered to continue my term as an interlocking director with the Pro-Demnity Insurance Corporation until June 2018 and hope to have more time to devote to local issues with the Ottawa Regional Society of Architects (ORSA). As long as it is needed, I will always be a voice for the OAA, helping to raise awareness that #architecturematters.
While I've always worked hard when I'm away from the office on Council business, I'm looking forward to now devoting even more of my time to growing our practice. I'm incredibly grateful to my staff, and partners, for supporting this journey. I'm also grateful, beyond expression, to my family, for being a part of this, and helping me to achieve a better architecture profession for all who practice here in Ontario.