News & Media
Exploring design trends: what's up next? The linen look  
June 30, 2017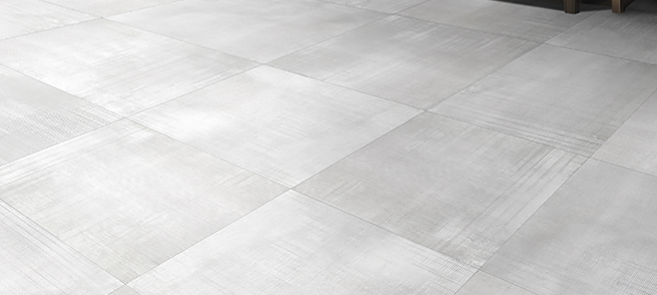 We've been keeping our eyes on the ever-evolving design styles and changing trends, and (you heard it here first) we feel the "wood-look" tile might be on its way out. While absolutely beautiful, practical and welcoming, similar to every other trend, once it reaches the point of saturation, it too will be passé.
What's up next? We think it'll be the linen look.
Much has been said about the enduring appeal of linen. This ancient fabric has been a part of the human experience since the time of the pyramids. Just like wood, it cycles through the changing trends. Sometimes seen as an impossible luxury from brands like Anichini, or an earth-friendly enduring heirloom from brands like Rough Linen. Caring for linen has also been seen as a barrier to adoption. Like silk, its price and strength are balanced by its brittleness and special-care needs.
The quality, price and burden of care make many linen-look materials viable alternatives. The linen-look in tile, wallpaper and upholstery retain much of the collective-memory appeal without the downside of real linen.
Where are we seeing it?
Pinterest is swarming with linen-look ceramic floor tiles, rugs (example from Olympia Tile) and textured glass wall tiles in a range of soothing neutral colours…greys, whites, and beiges – the colours that we most readily associate with the freshness of linen. These work equally well with elegant and country-chic design aspirations.
Houzz shows us rooms where linen-look wallpaper is still considered a luxury finish often used to emphasize the rest of the room's cream and wood aesthetics. When you look closely, you can see that some of the wood pieces are composite, not solid, and the cream carpet is man-made durable, so the linen-look is being used to help the space feel luxurious at an affordable price.
Don't forget the upholstery! Everywhere you look from bookstores to garden warehouses, the linen-look is becoming very obvious. We associate linen with summer breezes, cabanas by the pool and people travelling through the desert. All of these associations evoke sunshine, relaxing, elegance and comfort with a touch of primordial, permanent evolutionary memory.
As with almost all design trends and styles, we come full circle. What is old is new again! As the taste for the wood-look wears itself out, the taste for the linen-look gains speed. We look forward to seeing this trend unfold!