News & Media
Diving in
March 20, 2019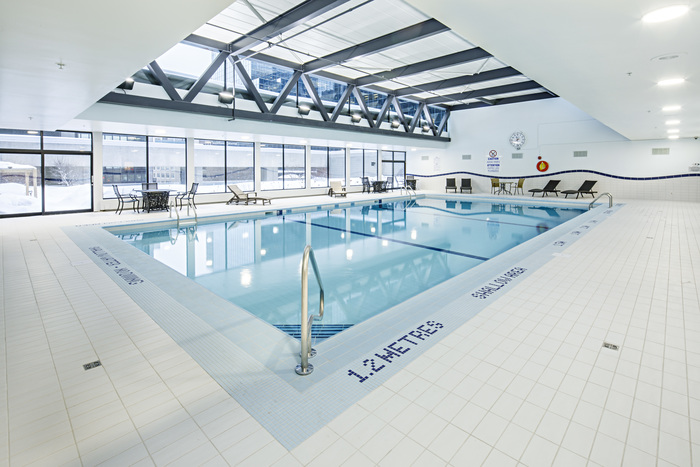 Last year we had a unique opportunity and took to chance to dive right in.
A local hotel had been having trouble with their pool and had hired an engineering company to do the structural repairs to their pool. In that process, the pool was found to be leaking, causing problems for the hotel ballrooms below the pool. We were brought in to help the engineering team with design and repair.
Over the course of the winter and spring of 2018, we worked with hotel management to refine the scope of the project and approach, and then, by the end of the summer, completed drawings and specifications for the repairs and retiling of the pool and deck. Over the fall, the construction work was completed and the pool was filled and commissioned in early February.
This was a great project and a type that doesn't come around that often. Pools are expensive to build and operate but provide a valuable amenity to hotels, especially in winter when they cater to visitors looking to relax and warm up amidst the dreariness of winter.
In the design process, safety around the pool is as important as making it not leak. We were fortunate to work with some expert help in selecting the right products and systems to apply to the concrete structure to get a watertight system. While this is critical, no one will see this crucial hidden key part of hotel infrastructure. What they will see is the tile.
Many pools use a small mosaic tile that lets wet feet find good traction on slippery surfaces. Smaller tiles can also be easy to fit to tight spaces and formed around curves and steps. While beautiful, they can also be a bit boring, because everyone uses these. We decided to not be boring.
We used a specialty Italian tile specifically designed for swimming pools. Rich blues and accent colours, along with edges made for steps, inside and outside corners makes for a seamless transition from the decorative wall tile to the floor and down into the pool basin. Aside from looking good, the tile helps swimmers visually orient themselves at transitions in pool depth as well as at the edges of the pool and stairs. Custom made depth markers and mosaics along the perimeter complete not only the look, but add to the safety. Fresh paint on the walls and ceilings round out the repairs.
The Delta Hotel team was great to work with throughout the project. Thanks to the great team at EURO Tile & Stone for their support and technical advice along the way and to WSP for their engineering expertise. And thanks to MP Lundy Construction and their crew of talented trades for making this a reality and for photographic skills of Miv Photography.